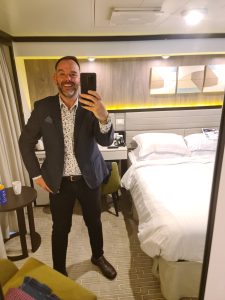 I was appointed ELT Project Officer, Faculty of Technology in October 2011 after working for the National Institute of Adult Continuing Education (NIACE) for approximately 7 years.
Since appointment I have led and worked on a number of strategic institution wide ELT projects including: Multimedia Enhancement; Synchronous Classroom; the Teaching Systems Review; and Universal Design f0r Learning.
My Faculty specific engagement includes running team or individual based staff development sessions, sitting on various committees and boards, and providing day to day support for colleagues using technology in the curriculum.
I developed a passion for learning technology in 2003 and this began to link to my work when I joined NIACE's Digital Learning team in 2004. Prior to this I was employed in the private sector and I haven't looked back since.
As an adult I started my learning journey whilst in employment having not progressed into FE or HE following school. I have achieved a number of vocational qualifications and my work over the last eleven years has instilled in me an inherent value of learning of all types.
I have a strong belief in making learning accessible to all and I also believe that technology, where implemented appropriately, can play a vital role in achieving this goal.
Alongside my experiences of ELT and the pedagogical application of technology I am an accomplished PRINCE2 Practitioner certified Project Manager and I teach on a PRINCE2 focused third year undergraduate module when time allows. I value the structure that PRINCE2 offers without being inhibiting and I am also a very practical person who feels just as comfortable behind a desk drawing up plans as cabling up an IT suite.
Since joining DMU I have contributed to one article and a conference paper:
Conboy, H., Kaur, S., Lowe, J., Pettit, I., Weale, R. (2015) Developing Digital Literacies by Bridging Skills and Pedagogy. Journal of Learning Development in Higher Education [online], Issue 8. Available at: https://journal.aldinhe.ac.uk/index.php/jldhe [Accessed: February 15th 2016]; and
Carter, J. and Pettit, I. (2013) E-Learning for Employability: A Case Study from a UK Masters Programme. Proceedings of 9th China-Europe International Symposium on Software Engineering Education (CEISEE). https://www.dora.dmu.ac.uk/handle/2086/1084.
Thank you for reading about me.
Ian.