These five (5) training and development sessions will cover the basic functions of the core teaching, learning and assessment technologies that you will most likely be required to engage with as a minimum in your teaching.
Intro to Digital Learning and Teaching
DMU Replay Overview
Introduction to Turnitin
Deep Dive: Content Creation
Deep Dive: Assessment
The schedule of sessions, and booking system can be found on the My DMU Hub as follows:
1. Go to https://dmuhub.dmu.ac.uk/ and log in
2. Click the My Development tile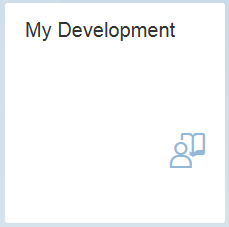 3. Click Browse Catalogue in the Links panel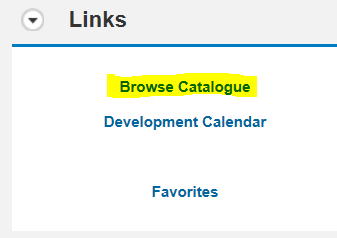 4a. For sessions related to LearningZone – click the LearningZone option.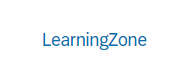 4b. For all other sessions relating to our core Learning Technologies (e.g. DMU Replay) – click the Digital Learning and Teaching option.

5. Select the course from the menu.

If the session that you wish to attend is not currently running or the dates are not suitable, you can register your interest in attending a session by clicking the Prebook link on the session booking page in the DMU Hub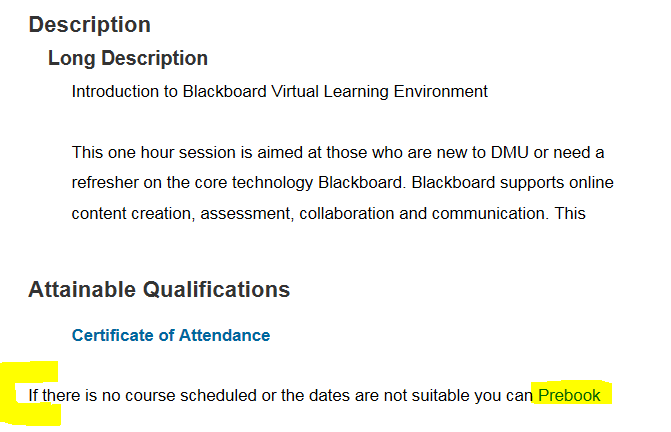 If you would like to have any of these sessions delivered for your programme team, please contact your Faculty DLaT Consultant to make arrangements:
ADH – Heather Conboy – hconboy@dmu.ac.uk (x7828)
BAL – Richard Vallance – richard.vallance@dmu.ac.uk (x6296)
HLS – Rob Weale – rweale@dmu.ac.uk (x7878)
CEM – Ian Pettit – ipettit@dmu.ac.uk (x8860)
External Partners/TNA – Maxine Armstrong – mla@dmu.ac.uk (x7549) and Jonathan Coope – jcoope@dmu.ac.uk – (x6004)