Create a quiz for students using Microsoft Forms

Online quizzes are an effective formative learning tool and can be created with Blackboard Tests. But there is another tool available, Microsoft Forms, that can create quick and easy quizzes for your students. Although quizzes created with MS Forms can be used as stand-alone knowledge checks, they can also be incorporated into a MS Team meeting or webinar. MS Forms provides an up-to-the-minute view of responses so you can easily track your students' progress.
MS Forms is one of the apps that comes with MS365 and is available via DMU Connect or from MS Teams. To open MS Forms from DMU Connect (the DMU Intranet available through SharePoint), select the Forms option from the menu at the top of every webpage:

Select Forms and then click Open.

Select + New Quiz to create a new Quiz and it will open ready for you to start adding questions.

Although you can skip giving your quiz a title it does help when you create multiple quizzes to name them. Select Untitled quiz to give your quiz a title and description if you choose. To add a question to your quiz, select + Add new.

You can choose what type of question you want to ask from Choice, Rating, Text, or Date. Further options are available by selecting More question types.

Continue to add questions to the quiz until you are happy it is complete. You can preview the quiz using the preview option.

Open More form settings to select who can respond to the quiz and how you want the responses recorded. When you are ready for the students to take the quiz select the Share option. You can select who you want to respond to the quiz and how you want to share it. You can copy the quiz link to add to Blackboard or email it to your students.
To open MS Forms from MS Teams look to see if it is available in your app menu. If not select More added apps and search for Forms.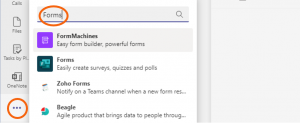 You can now choose whether to open the Forms app or add it to a team or meeting. If you add it to a Team you can either create a new quiz or choose an existing one you created earlier.
Further guidance is available on How to add a poll via a Teams channel. POD also have detailed guides on Forms and Quizzes.
Banner image by Shahid Abdullah from Pixabay Screenshots used with permission from Microsoft.