Four more tips for writing effective feedback (part 3)

In two earlier posts, we looked at different ways to write effective feedback: Four tips for writing effective feedback (part 1) – DLaT Hub (dmu.ac.uk), and Four more tips for writing effective feedback (part 2) – DLaT Hub (dmu.ac.uk).
In this concluding post in the series, we discuss four final tips to writing effective feedback.
Tip 9: Microsoft Teams – grade, return, and reassign assignments
If you have created an assignment or quiz in Microsoft Teams then you can leave feedback for students through Assignments.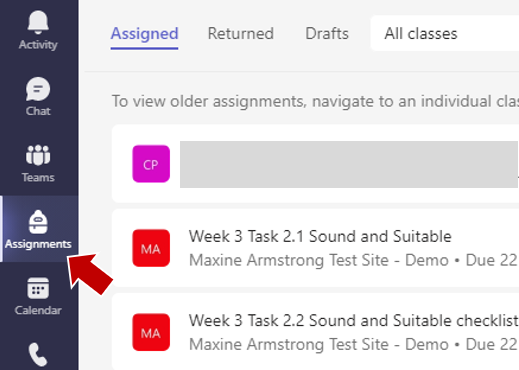 You can provide feedback to individual students as comments or attached files. When you create group assignments in Teams you can provide feedback to the whole group or individually. You can also add a rubric to an assignment and then reuse it for any future assignments that you create.

Ensure you follow all DMU policies on assignments before using Teams for any formative or summative assignment. Further advice is available on how to grade, return, and reassign assignments with MS Teams.
Tip 10: Peer feedback
Asking students to provide feedback to one another on their assignments is one way of helping students develop a deeper understanding of an activity or subject. By including opportunities for peer review you are also ensuring students develop their evaluation skills, which they can apply to their own assignments. Involving students in the evaluation process also helps them to better understand how assignments are assessed by others and to better evaluate their strengths and weaknesses in their own work, which can be particularly useful when developing, drafting or revising their assignments.
Providing online opportunities for peer feedback has several advantages. Firstly, many students, especially international students, prefer to provide their peer feedback online as it mitigates "language barriers and social inhibitions" (McCarthy, 2017). Moreover, McCarthy (2017) suggests offering multiple means by which students can communicate with one another – e.g. via online peer feedback – can itself bring learning benefits to the whole student group.
Tip 11: Generic feedback to large groups
Providing general feedback to a large group can be one way to ensure students receive prompt feedback on their assignment submissions (Kings Learning Institute, 2013). Generic feedback can also be provided at any time during the assignment process e.g. after a draft submission or before the final submission to further assist students' understanding. Often, generic feedback can save staff time, by avoiding the need to repeat comments to individual students which may be common to some or the whole group.
If you are using MS Teams, you can provide generic feedback to Team assignments when you add a group to the assignment. Note: you cannot edit a group after the assignment has been created, so ensure you have all students assigned to a group when you first create it.
In Blackboard, you can provide generic feedback to group assignments through the Grade Centre after submission.
Tip 12: Automated feedback
Automated feedback can also help staff to provide feedback in a timely and efficient way. It can also save staff time while still providing students with the feedback that they need.
Multiple choice tests are a popular method. Automated multiple-choice tests can be used as formative knowledge checks to enhance students' learning and metrics for analysis, with nominal impact on tutors' time. Using automated multiple-choice tests with your students, you can decide what level of detail to provide in the automated feedback. Multiple choice test applications may be set up in several ways. Tutors might wish to restrict students to see only their overall score, or students can be alerted to which questions they answered incorrectly. Fuller feedback can inform students about the correct answer for each question they got wrong.
A more recent innovation is to provide automated feedback via an automated writing evaluation (AWE) system. Although current research is limited regarding the effectiveness of AWE feedback on student learning, AWE can be used to provide large cohorts with timely feedback. Young et al (2021) suggest students can improve their study techniques and future performance when AWE is deployed. Meanwhile, Wilson et al (2020) claim that if AWE aligns with the curriculum it can help students in developing their writing skills.
Further advice on effective feedback is available in Pearson's Providing Educational Feedback. There is also guidance on different ways of proving feedback at DMU is available at Support Using Technology – CELT Hub (dmu.ac.uk). There are case studies involving providing feedback at  Effective Practice in the use of ELT @ DMU – CELT Hub.
References:
Blackboard (2022) Blackboard Help, Create Group Assignments | Blackboard Help
King's Learning Institute (2013) 7 ways to enhance feedback to students, Kings College, London
McCarthy, J. (2017) Enhancing feedback in higher education: Students' attitudes towards online and in-class formative assessment feedback models, Active Learning in Higher Education, 18(2), pp.127-141.
Microsoft (2022) Microsoft Teams for Education, Grade, return, and reassign assignments (microsoft.com)
Microsoft (2022) Microsoft Teams for Education, Create Group Assignments | Blackboard Help
Microsoft (2022) Microsoft Teams for Education, Create and manage grading rubrics in Microsoft Teams
Pearson Education (2016) Providing Educational Feedback, Higher Education Services White Paper.
Wilson, J. and Roscoe, R. D. (2020) 'Automated Writing Evaluation and Feedback: Multiple Metrics of Efficacy', Journal of Educational Computing Research, 58(1), pp. 87–125.
Young, K. R. et al. (2021) 'Tired of Failing Students? Improving Student Learning Using Detailed and Automated Individualized Feedback in a Large Introductory Science Course', Innovative Higher Education, 46(2), pp. 133–151.
Banner image by Gerd Altmann from Pixabay. Screenshots used with permission from Microsoft.