Turnitin QuickMark Manager

Previously we looked at how QuickMarks in Turnitin can help provide effective feedback and save time when marking students' assignments in Turnitin. QuickMark Sets are a feature that helps you take this further by organising your comments into collections.
Built-in sets
Turnitin has a number of different built-in sets of QuickMarks that you can use to extend the range of comments available for feedback. Your QuickMarks are available to your profile whenever you log into Turnitin via Blackboard. There are general QuickMark sets on composition, format and usage, as well as aspects of academic writing, such as Academic Integrity that includes comments on referencing and paraphrasing. Some sets focus on particular disciplines such as Science Short Answer, that includes comments on evidence and reasoning.
In addition to built-in comments, QuickMark Manager stores every QuickMark that you have created or that other instructors have shared with you. To help you organize your comments, they can also be organised  into collections of similar feedback.
Custom sets
The Commonly Used QuickMark Set opens by default in Turnitin, but you can change it to another set if you use it more frequently. As many of the default sets are not targeted at higher education, you may find it more useful to create your own sets. You can also export your sets of QuickMarks, so others in your team can use them, which would aid feedback consistency.
NOTE: Changing a comment will update all instances of where you have already used that comment in student papers. Therefore, ensure you only use them for commonly used comments and do not change them once feedback has been provide to students as it could create confusion for those students.
Turnitin QuickMark Manager
You are able to organise your comments and Sets by using the QuickMark Manager. If you have a student submission already open you can open the QuickMark manager by selecting Manage QuickMarks (the cog wheel) next to the Set name.

If you have not got a student submission open, then open a Turnitin assignment and select the libraries tab (top of page).

Creating a New Set
From within the QuickMark Manager, select the plus (+) button next to sets.

Give your set a name and then select Save.
Adding comments to a Set
Add new comments to the new set by select the plus (+) button next to Marks.

To add a new comment to a set when you are marking an assignment. First write the comment and then select Convert to QuickMark. You will now be able to select the set to add the comment to and Save.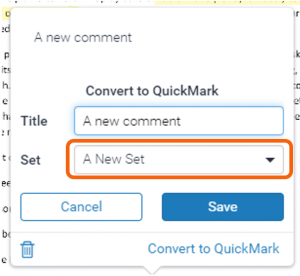 The new comment will then be available from the set to be dragged into other assignments.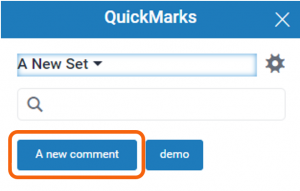 Changing the Default set
If you want your new set to be the default comment set that appears in the right-hand frame when you are marking assignments then select Make this the active set.

Exporting Sets
Open QuickMark Manager, click on the set you want to export to highlight it. Now select the arrow icon and select Export Set from the drop-down list. The set will be downloaded as a .qms file.

Importing Sets
Open QuickMark Manager, select the arrow icon and select Import Set from the drop-down list. Browse for the .qms file and upload using Import.

Further guidance on QuickMarks and Feedback Studio is available on the CELT Hub:
Banner photo by Vlada Karpovich from Pexels.