Using templates in PowerPoint to create clear and accessible slides

If you have read Making your PowerPoint accessible, you will already know that using an accessible template is the first step in creating clear and accessible slides.
Your faculty or department may provide a template for you to create PowerPoint presentations. But you may need to edit these for different occasions or you may want to create your own. Whatever template you use you need to ensure that it is clear and accessible for all users.
What is a template?
A template is a theme that has had some additional design elements added. So, what is a theme? A theme is a set of predefined colours, fonts and visual effects that are applied to the slides in your presentation to provide a unified look. Changing the theme of your presentation can radically change how your slides appear visually. A template then takes a theme and adds content to fulfil a specific purpose, such as creating a classroom lecture or a schedule. Templates can be saved and reused so your presentations have a harmonious look and structure.
How to create an accessible template
An accessible template should include accessible features such as a strong contrast between text and background and fonts that are easy to read. The background should not be so detailed that it makes text that overlays it hard to read.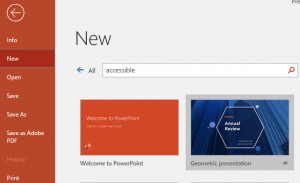 Although the Design tab contains many built-in Themes with different colour Variants, you can also search for new templates (with an incorporated theme) or create a new custom theme. To search for a new 'assessible' template, select Files, then New and then add 'accessible' to the search criteria, templates tagged as accessible by their creators will be listed.
You can create a new template by adapting an existing presentation or start with a blank presentation. If you are using an existing presentation then strip out everything you do not want to reuse and save the file as a template (.potx file).
To check where templates are stored, first select File, then select Options, and choose the Save menu option. Under Save Presentations you should see the Default personal templates location listed.
To ensure your template is accessible ensure you have suitable slide layouts that will match the content of your presentation slides. Open the Slide Master to review the slide layout options. The Master Layout will determine the theme, colours, fonts and effects used by each layout. (When you edit a presentation in Normal view you can change the theme under the Design option on the ribbon. But if you make changes using the Slide Master view it will be saved in your template for when you create new presentations.)

Each slide layout includes different placeholders depending on what the slide is designed to contain. So, the Title Slide layout will have a placeholder for the title and subtitle. A title and content slide, includes a placeholder for content, which can include text, tables, charts, images and media. You can add new slide layouts using Insert Layout, which you can then populate with Insert Placeholder.
When you add placeholders to a slide layout ensure that the reading order of the slide is correct. To check the reading order, open the Selection Pane available under the Home tab on the ribbon (under Editing open the drop-down list for Select).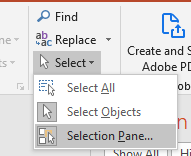 You can preserve any Slide Masters you want to ensure stay with the template by selecting the Master slide layout and then select Preserve under Edit Master. Remove any Slide Masters or slide layouts that you do not want to use in your future presentations.
Before you save your template, ensure you have considered all the steps in creating an accessible presentation from Making your PowerPoint accessible.
To save a template, first select File, then select Save As. Select Browse to locate your custom personal templates location. Give your template an appropriate file name and Save as type PowerPoint Template (*.potx).
Applying a template to your slides
To apply a template you have created in PowerPoint, select File, then New. Next select Custom and Custom Office Templates to see all the custom templates you have created or added to the Default personal templates folder. Choose a template to see the template details and click Create to create a new Presentation based on that template.
Banner photo by fauxels from Pexels. Screenshots used with permission from Microsoft.