Using the Microsoft Accessibility checker in Word and PowerPoint

The Microsoft Accessibility Checker can be used in many MS Office documents to ensure that content is accessible to users of all abilities.
In newer versions of MS Word and MS PowerPoint, you can open the Accessibility Checker by selecting Review on the Ribbon and then selecting Check Accessibility.


The checker will inspect your document and provide the results which will include errors (content difficult or impossible to read and understand), warnings (content may be difficult to read or understand) and tips (content could be presented differently to improve user experience).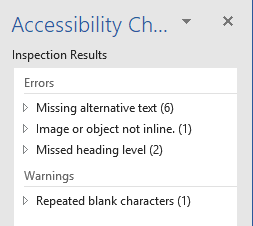 If you review each individual item, there will be a list of Recommended Actions.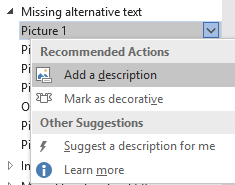 Select an action from the list to apply the fix or view the Additional Information below the list to learn more about the error and why you should fix it.
Once you have worked through each item listed the Inspection Results will show that there are no accessibility issues remaining.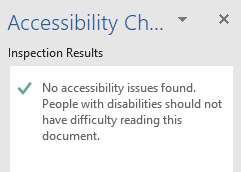 Although the Accessibility Checker can ensure that many accessibility issues are resolved it cannot detect all issues, such as how colour is used to convey information. It may also highlight a problem that does not need fixing, such as missing video captions when a video has in-band closed captions, or there is no dialogue. To find out more see Rules for the Accessibility Checker.
If you cannot see the Check Accessibility option on the Review tab, you may have an older version of Word. You can still use the checker by selecting File then use the Check for Issues button. In the drop-down menu you will see the Check Accessibility option.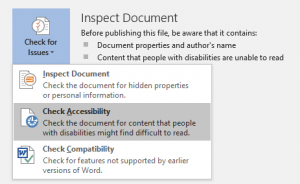 Banner Photo by fauxels from Pexels. Screenshots used with permission from Microsoft.